Sam's Sculptures
Own a Sam Wickey original bronze sculpture from his spectacular angel, children, or sports series. Custom design your own original bronze sculpture of a photograph of a loved one in any size.
Imagine your three dimensional masterpiece of a family member, friend, or beloved pet in their most memorable pose. Create an action play, memory or dream of your child, yourself, favorite athlete, or hero. The possibilities are endless.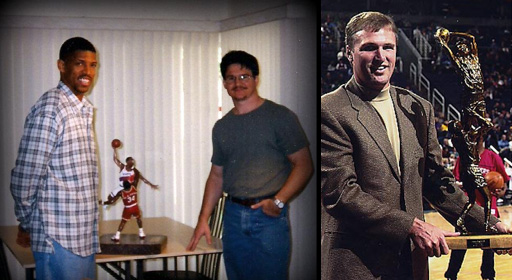 In the photos above, two of Samuel's sculptures were seen on national television during two NBA halftime shows when Kevin Johnson and Tom Chambers, of the Phoenix Suns, were awarded a bronze sculpture of themselves in action during their retirement ceremonies. Kevin Johnson and Tom Chambers were two of the Phoenix Suns best players who lead the Suns to the NBA Finals where they were two of Michael Jordan's biggest competitors.
View the Sculpture Gallery