Sam Wickey
Sculptor & Film Producer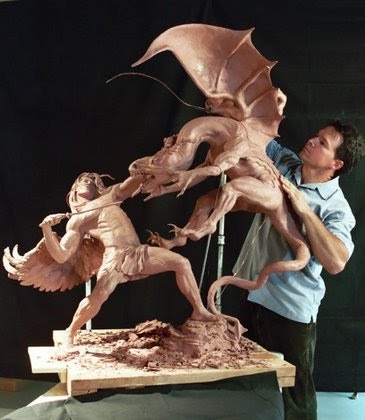 ".... There is a moment when the artist and the art is no longer separate, in that moment a miracle is born...."
Sculptor, Sam Wickey was born and raised Amish. Sam Wickey's Life Reflections in Bronze is inspired by a world message of peace and love, and is also a celebration of one man's struggle from fear to freedom. Inspired from childhood struggle and imagination, Wickey has perfected the art of sculpting without any formal training.
Unlike other sculptors who use today's most advanced tools, these masterpieces are created from a razor blade and a nut pick.
His most publicized sculptures include his commissioned, original bronzes for the NFL and NBA. Wickey's originals of Tom Chambers and Kevin Johnson were gifted to the actual players at their last award and retirement ceremonies. They are both on display at the America West Arena in Phoenix, Arizona and were nationally televised.
More of Wickey's work is also on display at Majerly's Sports Grill including sculptures of Dan Majerle and Charles Barkley of the Phoenix Suns and the famous " Shaq" of the L.A. Lakers. La Jolla, California is the home of Lew Bush's Lew's Barbecue, where you can see more Wickey bronzes, including: Tiger Woods, Sammy Sosa, Mark McGwire, Michael Jordan and one of Lew himself who played for the San Diego Chargers.
Wickey's work has been noted as gifted, inspired and nothing short of miraculous. His most recent public appearance was at Terbush Gallery in Sedona, Arizona for Illusions and Exodus the first two of his upcoming angel series. Illusions represents the battle between truth and fear. Exodus represents the miracle of love and enlightenment that transforms realities.